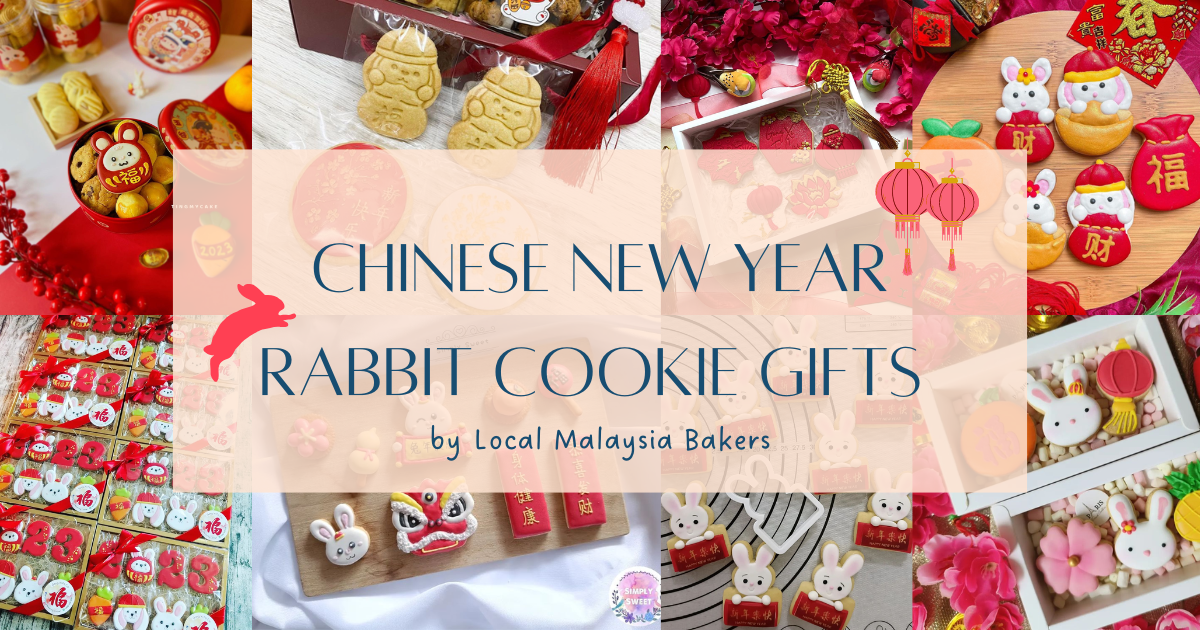 Chinese New year is just a few hops away. Looking for some irresistible cute rabbit themed cookies gift to share with your friends and family during CNY gathering?
We got you covered and have listed the cutest ones yet! Huat Ah!
Tingmycake
Baker from Stiawan, Perak, offers adorable bunny themed royal icing cookies packed in luxury bag gift box this Chinese New Year. Tingmycake also offers cookies with different flavours in metal tins that includes a royal icing rabbit cookie to sweeten the gift.
Contact Tingmycake
Instagram @tingmycake_
The Golden Whisk
Baker from Bandar Sunway, Selangor, have come out with Fortune Treasure Box this CNY. The perfect box for gifting!
What's inside you asked ?
Pineapple Tart x 1
Walnut Cookie x1
Fondant cookie (happy Chinese new year ) x2
Fortune rabbit butter shortbread x2.
All packed and boxed into this elegant red maroon box with a free tassel.
Limited boxes only!
Contact The Golden Whisk
Instagram @thegoldenwhiskmy
Maelynn's Bakering Corner
Baker base in Bukit Jalil, using pure butter and less sweet recipes have come up with 7 different sets of CNY themed cookie gift box, we are sure there is something that fits your budget!
Contact Maelynn's Bakering Corner
Instagram @maelynns_bakering_corner
Cookie and Celebration
Baker base at KL and Kuantan, curated this Chinese New Year Special Edition Cookie Box ✨'Hop' into the new year with this perfect gift for your family and friends! Celebrate this prosperous season with some sweet treats ❤️
Contact Cookie and Celebration
Instagram @cookieandcelebration
Simply Sweet
Baker from Miri, Sarawak,this year have 2 main different themed cny cookie, 1 with lion head and 1 with bunny wishes. Comes with adorable little cookies and wishes, these just spell Chinese New Year all over!
Contact Simply Sweet
Instagram @simply_sweet_2018
Belinda Jee Designer Cakes
Cake Designer base in Kuala Lumpur, is open to pre-order these exclusive Chinese New Year gift sets, 100 boxes limited production. Comes with 6 pieces of fondant decorated butter cookies and Golden gift boxes with matching gift bags. Classy gift don't you think?
Contact Belinda Jee
Instagram @beljee
Sweet Dreams Bakery
Baker from Penang, have 2 different sets of Chinese new year themed royal icing cookies for you to choose from, either the Rabbit themed or Chinese Girl Boy themed, both of them are adorable, maybe just get both? hehe
Contact Sweet Dreams Bakery
Instagram @sd_bakery
French Crullers 'PARIS'
Baker from Puchong, Selangor, have some of the fanciest cookie gift set we have seen, some of them even comes with a bamboo steam basket! They also have mini cookies gift box if you are looking to give each and every one of your friends and family during reunion. :)
Contact French Crullers 'PARIS'
Instagram @french_crullers_paris
Ribbon Bunny
Baker from Puchong, Selangor, have a range of different happy bunny gift sets from sugar cookies, fortune cookies to pretzel. They do corporate gifting too!
Contact Ribbon Bunny
Instagram @ribbon_bunny_my